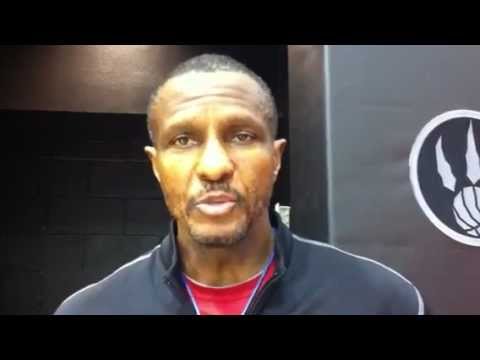 Before the Raptors began work on implementing a new offence or getting down to the fundamentals of defence, new head coach Dwane Casey attempted to drive home one philosophy to his new players.
Namely, "Pound The Rock".
It's an expression many sports fans have probably heard before, but its roots have nothing to do with overdribbling or a heavy dose of the running game in football. Around the start of the 20th century, journalist and social reformer Jacob Riis provided the unexpected inspiration for a legion of sports coaches when he observed the following about the perseverance of New York City's working class:
"When nothing seems to help, I go look at a stonecutter hammering away at his rock perhaps a hundred times without as much as a crack showing in it. Yet at the hundred and first blow it will split in two, and I know it was not that blow that did it, but all that had gone before."
A simple but effective observation and one that's been adopted by several winning sports franchises and collegiate programs. Last season's edition of the Miami Heat subscribed to it on a game-by-game basis, while Spurs head coach Gregg Popovich has reportedly long been a believer in the philosophy and has had it posted in his team's locker room in multiple languages for years. Casey has already taken a similar approach in Toronto, it's now plastered on the wall of the team's practice facility and repeated before and after every practice session.
Like former Tampa Bay Buccaneers head coach Jon Gruden, Casey will also taken a literal approach to the mantra. A giant slab of granite will be placed in the Raptors locker room to serve as a constant reminder of the task ahead.