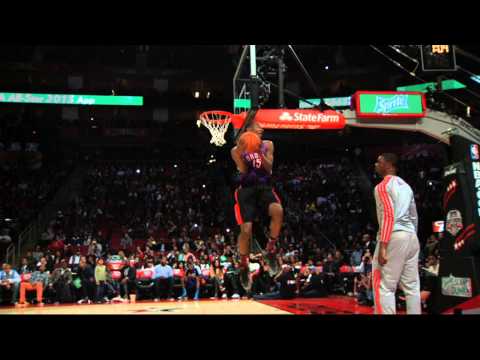 Thoughts from an amazing night in Houston for Terrence Ross, your 2013 Sprite Slam Dunk Contest Champion:
– When Saturday's judging panel was introduced, it was tough not to nod your head at the names involved. Rudy Tomjanovic, Yao Ming, Clyde Drexler, Hakeem Olajuwon and Dikembe Mutombo aren't just local legends in Houston — they're some all-time NBA greats.
But as @ParmB tweeted, there was only one former dunk contestant among them (Drexler, who participated numerous times back in the 80's), which might have explained a rather odd start to judging. Think about it:
James "Flight" White goes half-gimmick off the top with the flight crew (I'd argue too soon), but appeared to get docked for multiple attempts at an eventual sick one-foot, two-handed crush from just inside the free throw line… for a 45.
That seemed to indicate that Ross would need to come out of the gates with a Vince Carter-esque hit rate on his attempts, but that certainly wasn't the case. His twisting wraparound one-hander was unquestionably impressive, possibly his best of the night, but it took him six attempts to get it down and still earned him a perfect 50 from that panel. Phenomenal dunk. Curious judging criteria.
– What got Ross through that agonizing build up to getting the first one down? Never hurts to have a guy repping the 416 hard courtside.
"Missing that many times, I was terrified," said Ross. "I was like, 'I'm going to walk off the court with a zero.' But I just kept sticking with it, kind of got my nerves and Drake's all up in my ear like 'Come on! You know you got it!' So I said OK, I can't really let anybody down, I just kept sticking to it and it went down."
Ross bounced back incredibly well from there, even prompting Drake to give up some bling following his win. (NOTE: this "two chains" moment was better than the actual 2Chainz performing with Fall Out Boy.)
– Staying on that Drake theme, Ross "started from the bottom" of the Eastern Conference list of dunkers, which might have been the ideal spot — particularly on his second slam where a little patience paid off.
"When I did the 360 (on his second dunk), I wasn't planning to do it," said Ross. "I was going to do the Vince [Carter] dunk then, but since the other two guys missed, I was like 'I don't need to do that dunk yet. I could probably do something simple and still get best score.'  It worked out."
– Not really much to say about the Western Conference in the first round. They seemed like the underdogs coming in and did very little to dispel that notion early on. Denver's Kenneth Faried and Eric Bledsoe of the Clippers both had excellent second dunks, but didn't wow early on. That allowed Jeremy Evans of the Jazz to advance with two solid dunks that kept his best in his back pocket for the finals.
As soon as Ross knew he had moved on, he told me he felt the door was opened for him to step through and take the title.
"When the two guys in my conference lost, I thought 'OK, I have my opportunity right here." So I kind of jumped on it from there."
– The Carter homage wasn't entirely a shock to open the final (people saw him with the jersey in hand before his second dunk), but the decision to do it at all was pretty risky for a few reasons.
Tributes in general and to Carter specifically have been done (Josh Smith unveiling the 'Nique throwback jersey, Blake Griffin doing a Carter 'Honey Dip' the year he won)
There's lofty expectations if you go there, given that it's viewed as the best. Dunk Contest performance. Ever. Heck, there was a montage of current All-Stars absolutely geeking out over that dunk contest to open last night's main event.
Players may look back fondly on that contest, but Carter remains a fairly polarizing figure for Raptors fans, which sort of makes any kind of tribute a risk when you're angling for fan votes.
Turns out none of those were real issues simply because the dunk itself — a catch off side backboard into a spinning windmill that he hammered home — was a thing of beauty.
– With voting open the second the finals were underway, that dunk from Ross proved to be the difference maker. Evans leaping over his own self-portrait was a brilliant "meta" moment, but the slightly delayed payoff on the dunk and the fact that he was the artist emerged so late when votes were piling up in real time undoubtedly cost him a little.
– Whether intentional or not, Ross jumping over the son of Twitter CEO Dick Costolo seemed sort of fitting given the big social media push behind him for the contest. Unlike Evans however, that twist seemed more quirky than essential to appreciating the dunk. Mercifully for all involved, there was no #FAIL on that one.
– Also awesome to see with Ross's win? The support of his teammates online throughout the night…
– Last but certainly not least, the fans have to be acknowledged for jumping on the #LetRossDunk movement, sticking with #RossShallDunk and then locking it down for the rookie with 58 per cent of th vote in the final. The passion and power of Raptors fans online is undeniable and Ross was certainly appreciative in the locker room late on Saturday night.
"I did this for you," Ross said on camera directly to the fans. "You got me here, so I thought I'd bring you home a nice little trophy and just thank you for the support."