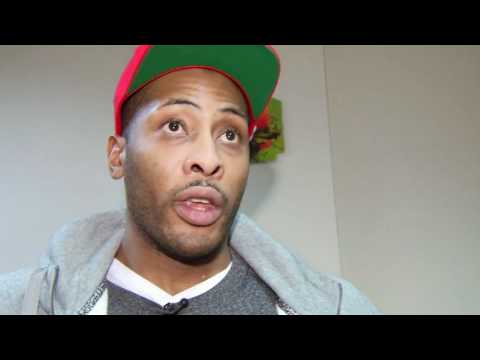 MORE FROM MONDAY'S COMMUNITY VISITS
It is suppertime at the St. Felix Centre, a soup kitchen in the heart of Toronto and Jamaal Magloire towers above the tables. He is wearing an apron and a plastic pitcher is enveloped in his giant right hand.
"Who needs milk ?" he says, working the crowd, joshing the clientele, six-foot-11  and bigger than life.
When the 33-year-old Magloire signed a free agent contract with the Raptors last month, he became the first Canadian player in franchise history.
He seems destined to also be the most dedicated to the community.
"I want to reach out to every kid in Metropolitan Toronto in one way, shape or form, whether it's over the air, in person or in spirit," he said seconds before a 20-minute talk with children in the centre's play area.
To better amplify his message, I have interspersed pieces of his talk with the children into this story. His words are in italic.
"The reason we are here is because we care. We're here to share some of our experiences. We're here to let you know that you have our support. We're here to answer any questions that you have for us.
"We were little kids at one time. We went to school every day. What we talk about may be in the perspective of basketball but I want you guys to understand it's for everything.
"You guys have your whole life ahead of you and I am sure each and every one of you wants to become successful and make your parents proud."
The 33-year-old Magloire has seen everything the community can offer. The son of working-class parents from Trinidad, he grew up in a townhouse at Sheppard and Don Mills Road. He found basketball in Grade 5 and became a high school star at Eastern Commerce.
Throughout his high school,  the University of Kentucky and over an odyssey that saw him play in Charlotte, New Orleans, Milwaukee, Portland, New Jersey, Dallas and Miami,  he has been trained and mentored by Toronto basketball giant Simeon Mars. From his parents to coaches and helpers, Magloire is a product of his environment.
"I was born in Toronto, in Scarborough. No different than you. There was somebody older than me. Back then it was Lennox Lewis. He was the heavyweight champion of the world in boxing. The day that he came and spoke to me it changed my life. I always knew that I wanted to make my parents proud and I wanted to do something but I didn't know what.  I started by playing soccer, skating, running track and then I started playing the game of basketball and that's something I fell in love with it."
"In years past I would come home after my last game was played and I would try to cram all of that in three months but the problem was school lets out for the kids, they're all over the place," Magloire said. "It was a lot harder to reach out to them. Now that I'm a Toronto Raptor I am going to go above and beyond the call of duty because I know I can reach out and make a difference."
"My major in college was social work. The reason why I decided to do that was because I knew I would have the opportunity to do this.
"I have so many messages. I want to tell them about my experiences. I want them to know that 20 years ago I was in the same position they are now.  I was in (part) there was somebody talking to us."
"Not everyone will want to play basketball but I'm telling you what worked for me. You guys may want to be a firefighter, a police officer, a librarian, whatever it is. What gave us an opportunity to do what we are doing now?  Simple."
"We listened to our parents. Not everyone has parents, but you have someone taking care of you. It could be a grandmother, parents, aunts, uncles. We started by listening to our parents. We didn't always agree what our parents said.
"Sometimes my mom would say Jamaal, I wanted you to come home right after school but I still wanted to be outside playing with my friends. Despite not agreeing with what she said, I listened to her. After listening to her all my life, she loves me even more. I was obedient then, that means listening to people who are an authority figure, a teacher, your parents. Now I can do that with my coaches and the owner of the team because I started those habits at your age."
Magloire has felt tremendous personal loss. His 19-year-old brother Justin Sheppard, himself a gifted basketballer, was shot and killed in 2001. Justin's killer has never been found. Part of Magloire's message to the children is about the need to report when they feel a danger to themselves or others.
"When you report something that's not right to the teacher or a guidance counselor, what you are doing is protecting yourself, your friends, your family. We are all very smart individuals here. If you see something wrong, with a knife or something they are not supposed to have, please share it with someone who can take care of the situation. I don't want to see any of you guys hurt."
In the twilight of his career, Magloire is finally where he has always wanted to be. His basketball days are coming to a close. What he can accomplish in his home town is just beginning.
"We're getting old. Sooner or later we have to retire and move on with our lives and we want you kids to be around to take care of us. Some of you are going to be doctors, law enforcement officers, lawyers. I want to know I am going to be safe in 10 or 15 years down the road. We're counting on you guys to do that and it starts today and it starts now by doing the right things."