Projected Starters
TOR – Jose Calderon (G), DeMar DeRozan (G), James Johnson (F),  Andrea Bargnani (F), Aaron Gray (C).
UTA– Devin Harris (G),  Raja Bell  (G), Gordon Hayward (F), Paul Milsap (F), Al Jefferson (C).
Key Injuries
TOR –None
UTA– Josh Howard (strained left quad) – Probable
Here's what we'll be watching as the Raptors aim for a second straight win in Utah against the Jazz on the third stop of their current five-game trip (9 PM ET, TSN2, FAN590).

Quirky Calendars: These two teams couldn't have had more dissimilar starts in terms of scheduling, as the Jazz (10-5) have played just two of their 11 games in January on the road and have been off since Saturday.
By comparison, the Raptors have played 15 games in the same time span with nine of those games away from Air Canada Centre.
Factor in the altitude of Salt Lake City at the end of a back-to-back and 12 straight losses in the series against the Jazz and it all adds up to another big challenge for the Raptors.
Bargnani's Big Return: A little bit of understandable rust for Bargnani in the first half against the Suns, but those final two quarters showed why he's worthy of your All-Star vote.
Bargnani dropped 18 points (6-9 FGM-A), including four of his five three-point attempts to help the Raptors seize control in the third quarter. He also saved his best for last with some clutch play in the final minute with a tough pull-up jumper, a pair of free throws and a big rebound late.
He played over 42 minutes in his return, so keep an eye on what he does he does for an encore against a tougher Jazz frontline to close a back-to-back.
Blur'd Vision: If you're looking for some positives from Bargnani's absence, look no further than Leandro Barbosa.
In six games without their leading scorer, Barbosa assumed those duties with a team-best 16.5 points per game. He didn't miss a beat with Bargnani back on Tuesday, buoying the Raptors in the second quarter on his way to 19 points against his former team.
Casey reconfigured his starting five in an effort to achieve more balance, but he can't get it without a solid scoring option like Barbosa coming off the bench.
Quiet Night For Young Legs: Barbosa's hot hand earned him 31 minutes on Tuesday, which resulted in less minutes for DeMar DeRozan, who's shown flashes but continues to struggle with inconsistency this season
DeRozan, Amir Johnson and Ed Davis and Jerryd Bayless are four young key pieces for this club and they combined for 54 minutes of floor time, 11 points, seven rebounds and three assists against the Suns.
Look for more out of this well-rested group in the second game of a back-to-back tonight.
JJ's Improved Jumper: James Johnson had a solid outing in Tuesday's win over the Suns with 18 points (7-12 FGM-A) and matched a career-high with 10 rebounds. He's shown some improved efficiency on longer jump shots (3-6 FGM-A from 16-23 feet last night), something he said he's been working on with assistant head coach Tom Sterner.
You can get a brief glimpse at some of that work on shooting technique (in this case, one-handed free throws) with Tom Sterner below, prior to Friday's game against the Blazers.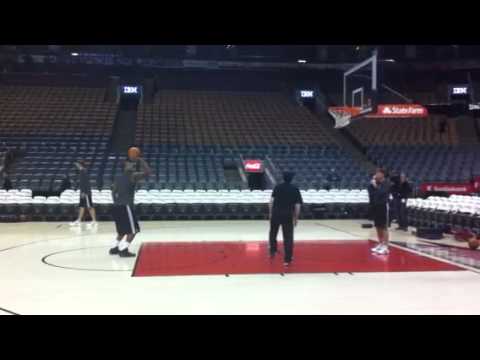 With an improved ability to knock down that mid-range jumper consistently, Johnson could eventually command more defensive attention and as a result,  open things up for his teammates on the floor. He'll try and keep it rolling tonight.