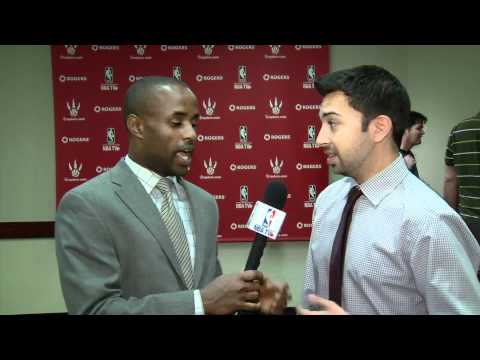 Return To Draft Central | More Workout Recaps: Day 1 | Day 2 | Day 4

Thursday's workout schedule was scheduled to be three potential lottery picks spread out over three sessions, but quickly changed after UConn guard Jeremy Lamb rolled an ankle just a few minutes in and was unable to continue with the workout. A tough break for the 20-year-old, who also chose not to speak with the media, but the Raptors did get to speak with Lamb prior to the workout and have certainly seen plenty of his game over the course of his collegiate career.
Lamb's absence made Duke guard Austin Rivers the lone lottery prospect among a group of six and while admitted he didn't have the greatest day shooting the ball, he still commanded his share of attention. First after shaking off and playing through an awkward landing on a putback attempt, but more impressively with the media afterward.
Rivers views the Raptors as one of a handful of situations where he sees a solid fit, particularly with Dwane Casey's style of play. Rivers' father — Boston Celtics head coach Doc Rivers — agreed.
"This is one of the places he likes a lot," said Austin after his workout. "There's only a few of them that we chose and my dad's even more of a critic. He likes this place and he loves the coach and so do I, so hopefully everything goes well."
Hear more about the workout from Raptors executive VP of basketball operations Ed Stefanski below, with more on potential second-round picks Scott Machado from Iona and Missouri guard Kim English.
First Session
| | | | |
| --- | --- | --- | --- |
| Name | Position | Height | College |
| Jeremy Lamb | Guard | 6-5 | Connecticut |
| Alex Johnson | Guard | 5-10 | NC State |
| Dee Bost | Guard | 6-2 | Mississippi State |
| Kim English | Guard | 6-6 | Missouri |
| Scott Machado | Guard | 6-2 | Iona |
| Austin Rivers | Guard | 6-5 | Duke |
| Tyler Murray | Guard | 6-5 | Wagner College |
| Harouna Mutombo | Guard | 6-4 | Western Carolina |
Second Session
The third and final session featured an individual workout with North Carolina forward Harrison Barnes and if you're a big believer in popular mock drafts, his presence seems somewhat illogical. Barnes is very possibly off the board by eight, with some mocks having him go as high as fourth. But look no further than Ed Davis and Jonas Valanciunas for two recent Raptors selections that were once pegged to go a little higher. Barnes seems to be preparing for a similar possibility.
"You can't put any stock in mock drafts," said Barnes. "You never know where you're going to end up. So working out for a variety of teams can only put you in a better situation in case someone passes on you."
More from Barnes on praise from Davis and a new nickname (for at least one season) below. Draft workouts continue on Friday at Air Canada Centre.