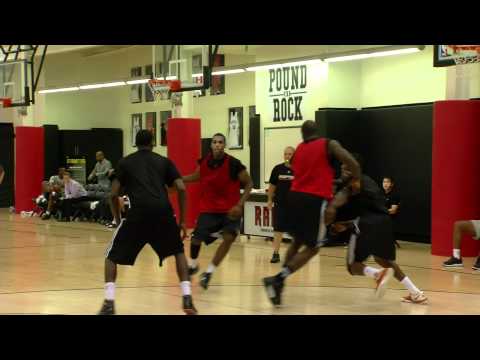 Return To Draft Central | More Workout Recaps: Day 1 | Day 2 | Day 3
Friday rounded out a busy week of pre-draft workouts at ACC with what appeared to be a physically punishing session from a group of forwards that could possibly be in the mix for one of the Raptors two second-round selection at 37 and 56.
In short, the perfect environment for Baylor forward Quincy Acy, who's thrived on tenacity and a high-energy game over the course of four seasons with the Bears.
"It was very physical because we had no point guard or no two guards to run the show"  Raptors executive VP of basketball operations Ed Stefanski said of Friday's workout.  "We just had strong kids and Quincy Acy is quite a strong kid and a very athletic kid."
If Acy's game sounds familiar to Raptors fans, it's probably no coincidence.
"Right now, I model myself and try to do it like Reggie Evans or Kenneth Faried, those guys that provide pure hustle and energy off the bench," said Acy, who's full beard furthers the comparisons to the former Raptors fan favourite. "I mean, Faried even worked his way into the starting lineup. They can provide winning plays that really helps their teams win games."
Check out our Prospect Playlist for the full interview with Acy, St. Mary's forward Rob Jones on his dual sport decision plus Toronto native and Oregon forward Olu Ashaolu.
| | | | |
| --- | --- | --- | --- |
| Name | Position | Height | College |
| Kyle Weems | Forward | 6-6 | Missouri State |
| Olu Ashaolu | Forward | 6-7 | Oregon |
| Rob Jones | Forward | 6-6 | St. Mary's |
| Khris Middleton | Forward | 6-8 | Texas A&M |
| Quincy Acy   | Forward | 6-8 | Baylor |
| JaMychal Green  | Forward | 6-8 | Alabama |