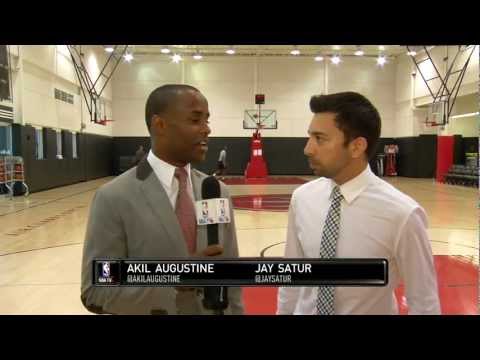 Return To Draft Central | Thursday's Prospect Interviews | More Workout Recaps: Day 1 | Day 2 | Day 3 | Day 4
Some quick points from Thursday's pre-draft workout, where the headliners were clearly Kentucky's Terrence Jones, Baylor's Perry Jones III, North Carolina's John Henson and Jared Sullinger of Ohio State University:
– As Eric Koreen points out in the National Post, be wary of anyone who claims they know what the Raptors are doing with that eighth pick next week. Within the last 24 hours or so of this posting, one report has mentioned the Raptors are "leaning" towards Jeremy Lamb, two more believe Dion Waiters is the pick, while executive vice-president of basketball operations Ed Stefanski said Thursday's workout should prompt even more discussion among team officials over the weekend. Either this team isn't decided on the pick or we're getting a master class in obfuscation.
– Today's draft workout also served as a reminder that the Raptors need to explore all options to try and find the best player available, regardless of positional needs with a lottery pick. We've heard GM Bryan Colangelo say it before and Stefanski reiterated Thursday that the Raptors are willing to stack at a position for the right prospect.
"I think you've got to go with who you think is best even if it's the same thing because you have trades and things like that you can do down the road," said Stefanski.
It's conceivable that the Raptors believe one of those four forwards is that guy at eight next week. It seems more likely that they could acquire any of them by trading down a little in an effort to acquire more experienced help.
– If you watched the recap video at the top, you saw a somewhat testy Jared Sullinger, who claimed that much of the talk about slipping down the draft order he's recently been facing comes from people that have never played the game.
Not the most flattering reaction while in a media scrum, but it's a shame most might not see what followed. Sullinger stuck around and did one-on-ones after that and noticed my colleague Akil Augustine flubbing a couple of takes nearby for a recorded on-air piece. I feel comfortable sharing this with you because I do it more than him.
Sullinger then walked over to tease Akil about it and the two just began to chat. Akil mentioned what was said in the scrum and Sullinger calmly explained his position again — citing his frustration with constant questions about his limitations when he's put up great numbers, plays hard and enjoyed tremendous success with his teammates.
It should be fascinating to see at what point the potential reward is going to outweigh perceived risk for a team with Sullinger on draft night.
– What makes Sullinger's potential fall more bizarre is the fact that could have gone higher in last year's draft, but he wasn't the only guy in the gym on Thursday who could make that claim. It's conceivable that all four forwards could have gone in the top half of the 2011's first round, but only Henson and Perry Jones find themselves in that range in the latest version of NBA.com's Consensus Mock.
– Other end of the spectrum from Sullinger (at least on camera) Thursday was Henson, who was affable, constantly smiling and at ease when describing his draft experience with the media.
"You do a lot of shooting, a lot of competition, before you look up you guys are rocking in and it's over," said Henson, who has made eight stops with two more to go.
– Perry Jones is going to be judged on things you can't see, but there's no denying that fascinating combination of size and skill he has to work with. He was the tallest forward of the four in attendance at 6'11" and solidly built, yet he probably has the greatest potential to play small forward in the right situation.
"I see myself as a forward," said the former Baylor Bear. "Either or. My versatility, that's what helps me be a 'tweener, but mostly a four. If coach feels like he wants to put me at the three for a little bit, then that's what I'll do, but I just want to be as versatile as I can be."
– Terrence Jones not only shares an alma mater with head coach Dwane Casey, he can also claim an interesting tie to the Raptors draft history in the form of cousin Damon Stoudamire — the franchise's first-ever draft pick and eventual rookie of the year back in 1995.
"I keep in touch with him," said Jones when asked if Stoudamire filled him in on Toronto. "I talk to him about everything really. I mean, that's my mentor. That's who I talk to about this whole process."
Check out our prospect playlist for full interviews with Terrence Jones, Perry Jones, Henson and Sullinger, plus watch more from Raptors executive vice-president of basketball operations Ed Stefanski below.