Unless you've been locked up working on your jump shot since the weekend, you know that we have a new Raptors Global Ambassador on board. And the go-to Google machine has been overheating these last few days with people trying to get the dish on the dapper dude known as Drake.
The stand out sayings within the big picture story that Drake painted with professionalism and passion at the presser this past Monday, were all about his love and commitment to the city he calls home.
Don't believe it? Here's why the locals do.
Before this weeks hype, the quote "I am a Raptors fan to the death!" rings rhythms from a 2010 interview with ESPN. And his presence within Raptor walls and Raptor gear have been noted.
Now I'm going to bang out the obvious courtside sightings.
He's also been known to hit the practice court on multiple occasions when back in Toronto with his Raptor friends like Amir. (Who shows support right back at Drake with stints like the one he pulled in Yonge-Dundas Square last week.)
He reps the Raps while spitting raps on stage and in his colaboration with DJ Khaled in the No New Friends music video.
With Ross doing damage at NBA Allstar weekend last season, Drake was by his side reliving the mad respect he showed for the then rookie at his slam dunk performance.

And he surprised fans back in 2010 with an unexpected performance at the Raptors Red Party.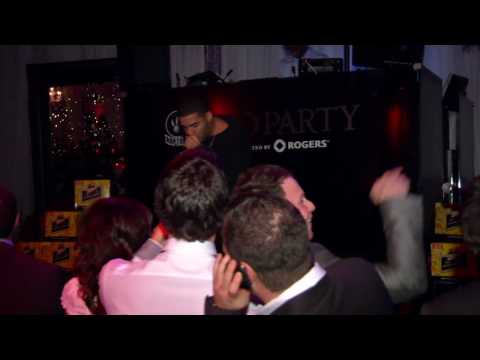 The go-to Google machine has "rapper to Raptor" on repeat but "Drizzy, who is he?" ain't ringing through no speakers.
Sure he started from the bottom but he's always been here.
Reppin' TO to the hardest … ah, I'll leave it to Drake.
I'm here all season, folks.
And now, so is Drizzy:
"I'm extremely passionate about two things: my city and my family. I travel the world performing and everywhere I go, I preach the gospel that is Toronto. I love this city with all my heart and I just want to let you know that I'm extremely excited to finally be a part of a team that I grew up as a fan of, a die hard fan of, of course, I'm sure, like everybody else from the city." -Drake