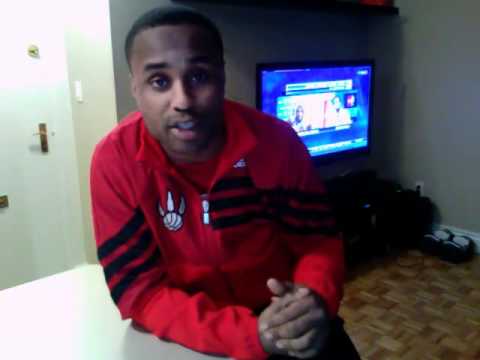 Our #RTZ Tweet of the Night from @Iminfantasyland pretty much nailed it, huh?
Love was in the air on Valentine's Day at Air Canada Centre on Tuesday — with a large (and loud) portion of that affection directed at Knicks point guard sensation Jeremy Lin.
We'll leave it to other corners to remark on the latest chapter of an admittedly fantastic story in Lin. But there were other reasons to feel the love at ACC last night.
How about some for head coach Dwane Casey, who received his 2010-11 championship ring from his time as an assistant coach with last season's Mavericks?
Speaking of putting a ring on it, how about the story of Kevin? He stepped up to pop the question to his girlfriend Elisa in front of over 20,000 screaming fans on-court (thankfully, she said yes). Congrats to both!
Finally, let's end with a request for a little more love. There's no question these last two losses have been difficult to stomach, but the Raptors have shown resiliency in both (not to mention in Friday's win over the Celtics).
It wasn't too long ago that this team was labouring at both ends of the floor without Andrea Bargnani and frankly, was difficult to watch at points. Say what you will about "a loss being a loss" but competitiveness hasn't been an issue the last three contests. That's undoubtedly something to build on as this homestand continues and the first half to the season concludes.
Here's what many of you had to say about another thriller at ACC.
Top 20 #RTZ tweets – Knicks @ Raptors
@loveofthegame10: Funny how the Raptors are the most popular team in the NBA today, it must be because its VaLINtines day.
@LNFerg1551: Forget chocolates and flowers all I want for #Valentinesday is @Raptors to win against the Knicks.
@TheLegendaryJG: Love Jose Calderon vs Jeremy Lin match up tonight. It shows that our world & sports is growing & becoming multicultural.
@torontoteams: Nice to see the Raptors not falling for the Lin hype tonight.
@Khota_23: Like I said yesterday, #vinsanity was way better than #linsanity will ever be.
@Steeebo: It would appear as though the short handed raptors are playing with pride on what is basically a national stage. About time
@Hishtopher: When they say "Linsanity" they're talking about Linas Kleiza, right?
@kuyaBRIAN_: Leandro Barbosa needs a sign on his back that says 'See you later!' He is too fast, a blur, even.
@ryanmcneill: The #Knicks scored 36 points in the first half and then scored 30 in the third quarter.
@BaseballFanDrew: Calderon following up his career high 30 pt game with another gem! Let's go Raps!! Close this game out strong and stop #Linsanity
@ShivaNagalingam: Alright, #Raptors, you've let @JLin7 lock up a double-double. No need to give him the win
@Ananth_Pandian: Amar'e just got invited to Amir Johnson's block party
@cjDE Hey @Raptors fans at the ACC!!! There is no need for the Knicks fans to be louder than you!!! Support your team!!! #RTZ #disgraceful
@RyanOnBoard: The man, the myth, the legend. Jeremy Lin has done it again. Wow. Ridiculous. Speechless.
@YYZ_RAPS_FAN: OMG – I was a witness….wow props to @jlin17. I love my team tho. Raps all day everyday.
@The_Grunt: Also, with all respect to jeremy lin, the reason the Knicks won this game was Dantoni's decision to put Shumpert on Calderon.
@kingkadakia: Regardless of Lin's heroics…special shoutouts to Jose!! 25 points, 9 dimes, 7 boards.Terrific!!
@Iminfantasyland: Well it is Valentine's Day so I guess it's fitting the #Raptors lose a heartbreaker
@jason_leite: A second tough loss in a row. Heads high @Raptors, we ARE getting better
@Nat77: Every single LIN pun is valid right now.
– Tweets compiled by Natasha Alibhai (@rtzfans)
Follow the @raptors on Twitter and join in the chat on game nights using #RTZ